Fiance Visa Thailand For your Thai Fiancee
Getting a Fiance or Spouse Visa to leave Thailand to join your husband in the USA takes a LONG time. 7 - 9 months for Fiancee. 10 to 16 months for Spouse. Its just like shooting a rocket to Mars. You work, you prepare, you LAUNCH, then you wait. Besides dotting the "i's" and crossing the "t's", the ONLY thing you can control is how soon you launch. In the case of immigration, its how soon you send in your complete Fiance or Spouse petition.

Simply said, "the SOONER you start, the SOONER you get here". Delaying, just stretches out the time you are separated.
Copy and Email him my phone number
1-800-806-3210 ext
or this address
http://www.fianceevisaservices.com/?ext=

In just a few minutes, I WILL set him straight. I'll teach him what needs to be done, I'll answer any questions he has. I'll clear up and make simple what seems so confusing.

The sooner he calls, the sooner you start your happy life in the USA.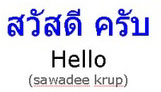 Fiance Visa Thailand + Spouse Visa Help
(this video is specially made for your Thai fiancee or spouse, to help her understand how I personally guide you through this complicated immigration process)


Click to read the transcript of the above
Thai Fiancee + Spousal Visa Help Message


Click here to view the English Version of the above Video
Let me do
ALL the work for you.
I guide my Fiance Visa Thailand clients through the whole process, starting with strategy to help you ANTICIPATE what the consulate you are dealing with wants, helping you to plan trips, and collect evidences, from a personalized, detailed "kitchen sink" document and photo check list, to preparing an AWESOME petition that because it is complete, and thorough, and well organized, and tells your story in the most believable way, paves the way for your Fiancee to have a sucessful AND pleasant interview.

Not only do I prepare the intitial petition, but I ALSO stay with you all the way through the time we wait for USCIS to approve, providing guidance on police certificates, vaccinations and interview questions, then in the final run-up to the interview, show you how to schedule the earliest appointment and lastly I upload to your private page, completed forms for your Fiance(e) to sign to take to the Fiance Visa Thailand interview at the US embassy in Bangkok, detailed instructions on obtaining chest x-ray, blood tests and physical at one of the two Bangkok Panel Clinics: Bangkok Nursing Home (BNH) or Bumrungrad Hospital or two Chiang Mai Panel Clinics: Chiang Mai Ram Hospital or McCormick Hospital, paying the visa fees at the Thai Post Office, obtaining Thai Police Clearance Certificate from the Royal Thai Police, details on exactly what needs to be done what you and your Fiance(e) should do to prepare for the interview, a list of 120 most likely interview questions for you to practice, a completed affidavit of support for your signature.


Whew !
And I do it all, PERSONALLY communicating directly with you. You telephone, I speak with you, you leave a message, I get back to you, you email, I respond.


Fiance Visa Thailand
All for only $695 (more details) (order) 

Check me out. Call 1-800-806-3210 x 711 and feel what it is like to talk to someone who actually cares, and be treated like a person, not a $sign.

While it does seem I am always at my desk, you will have the best chance to speak with me by calling between Monday to Friday, 9 to 5, PST.


Fiancee OR Spousal Visa
What are the costs?
Which one is better?
By Fred Wahl